Yesterday Hillary Clinton, looking toward the November election and ahead of the April 19th primary in New York, released her first campaign ad targeting Donald Trump. The 30 second spot narrated by Hillary doesn't mention Trump by name but dumps all over him. Hillary who has come out in favor of open borders and in bringing thousands of poorly vetted (trojan horse?) Syrian refugees into this country makes reference in the video to the great wall Trump wants to build on our southern border and temporarily barring Moslem immigrants from this country. Hillary seems to think that Trump's proposals are anti-American and against the values that New Yorkers hold dear.
In response this is what Trump should do. He should put out a video that begins with the 9/11 attack on New York and the collapse of the Twin Towers amidst panic and screams as people are seen jumping to their deaths. The ad should say that the 9/11 attack (masterminded by Gitmo inmate Khalid Sheikh Mohammed) was 60 months in the planning-53 under Bill Clinton and 7 under George Bush-and how Bill Clinton failed to capture or kill Osama bin Laden on several occasions.  The ad should end with the Twin Towers smoking in the background with a chaos of sirens blaring and screams and a voice asking:
CAN WE RISK HAVING THE CLINTONS BACK IN THE WHITE HOUSE?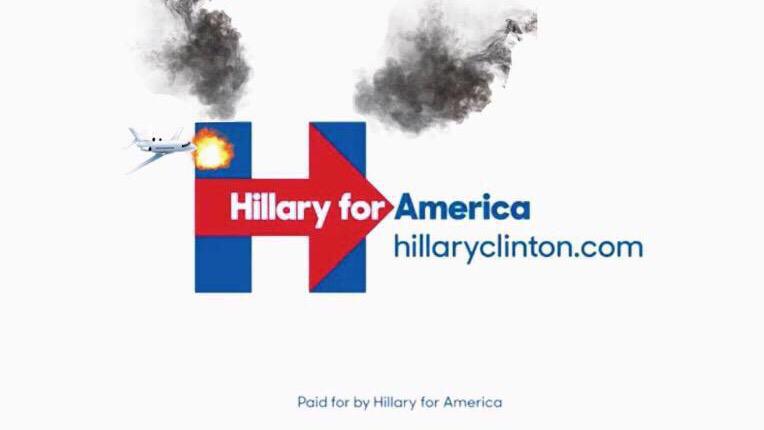 Surely it's appropriate to turn Hillary's campaign logo into the devastating 9/11 attack on the Twin Towers-not only because she's the wife of the president whose weak on terror policies were largely responsible for the catastrophe; but because as secretary of state she turned the US consulate in Benghazi into a 9/11 death trap.
In 2002 Bill Clinton in his own words said that in 1996 the government of Sudan offered him to take custody of Osama bin Laden. Clinton refused the offer knowing that OBL was a "financier" of anti-US terrorism.
Clinton:
 

So we tried to be quite aggressive with them [al Qaeda]. We got – well, Mr. bin Laden used to live in Sudan. He was expelled from Saudi Arabia in 1991, then he went to Sudan. And we'd been hearing that the Sudanese wanted America to start dealing with them again. They released him. At the time, 1996, he had committed no crime against America, so I did not bring him here because we had no basis on which to hold him, though we knew he wanted to commit crimes against America. So I pleaded with the Saudis to take him, 'cause they could have. But they thought it was a hot potato and they didn't and that's how he wound up in Afghanistan.
In 1996 the State Department warned Clinton that bin Laden's move from Sudan (who offered him OBL) to Afghanistan could have serious consequences for US security. Clinton did nothing to stop it.
A PROVIDENTIAL COINCIDENCE?
Hours before the deadly 9/11 attack Bill Clinton admitted to a group of businessmen in Australia that he had the chance to kill bin Laden in Afghanistan but did nothing fearing he'd kill the innocent Afghans around him.
TWO PRIMERS FOR A HILLARY CLINTON ADMINISTRATION ON NATIONAL SECURITY AND FIGHTING THE WAR ON TERROR