Okay. Seriously. Crooked, mendacious, low energy Hillary, the liar who once claimed that her mom named her after legendary Mount Everest climber Sir Edmund Hillary (six years before his conquest, see), doesn't need to climb a mountain or Trump Tower to prove that she's in top physical shape for the presidency. But opening pickle jars on late night shows is not going to cut it. To dispel self-caused doubts
 that she lacks 

(

for whatever reason) the energy, stamina and strength to handle the rigors of the world's most difficult job (without suffering chronic     fatigue*
) she'll need to demonstrate some real, strong convincing athleticism and physical endurance before election day-and I don't mean yoga, some swimming and light weight lifting which she's known to do.
*Chronic fatigue affects concentration and

   judgment.
If she's fit for command all she need do to give the electorate proof is run in a marathon and last thirty minutes; or run around a city block nonstop ten times; she could swim across the East River from Manhattan to Welfare Island where she launched her campaign; or she can do 15 laps in her swimming pool at Chappaqua then bench press 100 pounds several times.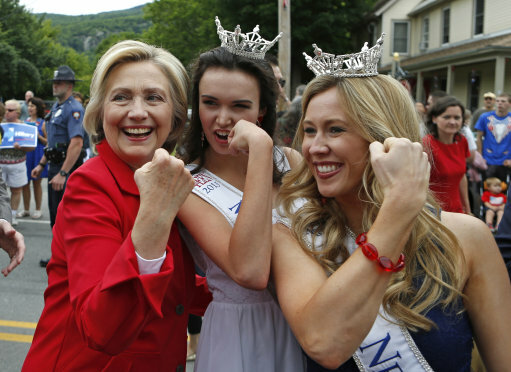 If Hillary would do any one of these things it would create a sensation and impress the nation with many declaring, "Man, this is one strong healthy bitch who's got the right stuff for the presidency;" and her health concerns would go away making Trump and guys like me look foolish.
But as long as Hillary jokes about her health with left-wing comics, suspicions will persist and grow until election day about a cover up costing her votes and possibly the presidency.
After opening an open jar
Hillary gets into a car with the help of a stool.
Or did the stool come before the jar?
Trump is Fit
Let's see Hillary carry boxes of supplies to people.
Let's see Hillary unload a truck - of supplies her foundation paid for!