A JUBILANT, BIBLE QUOTING JAMES COMEY TWEETS THAT FLYNN ADMITS TO LYING TO THE FBI
NOW WE LEARN THAT COMEY UNDER OATH TOLD A HOUSE COMMITTEE IN MARCH THAT FLYNN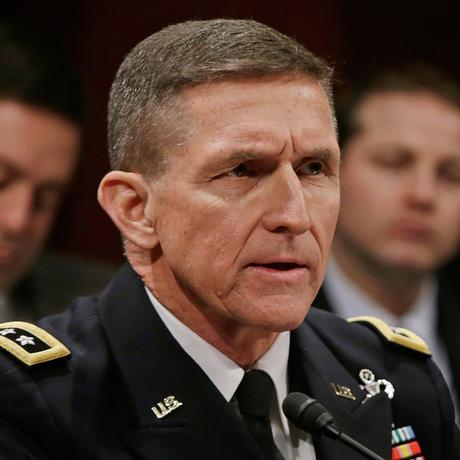 Fired FBI Director James Comey tweeted a Bible verse on Friday about the virtues of justice, hours after former national security adviser Michael Flynn pleaded guilty to one count of lying to federal authorities.
Quoting a passage from the Old Testament, Comey tweeted: "Let justice roll on like a river, righteousness like a never-failing stream! Amos 5:24 (see)."
People, if you're confused by all this then allow me to make it worse for you. On January 27th, three days after the FBI interviewed Michael Flynn, George Papadopoulos (a low-level foreign policy advisor to the Trump campaign) was interviewed by interrogators in the Russiagate probe where like Flynn, he made "false statements" about his contact with Russians. And guess what didn't happen? Just like with Flynn Papadopoulos wasn't charged with the crime of lying to them - as Mueller would do nine months later. Why? Two possible explanations come to mind: 1. Either Mueller and his investigators were keener than Comey and his men and caught what his friend missed; or 2. Comey knew well that Flynn and Papadopoulos lied (intentionally or not) but he let them slide like he did with Hillary and her many "unintentional" lies, cover ups and crimes in the email-server probe. I'm inclined to the later view.
Indeed, just imagine the uproar on the Right if Comey had charged either man (Flynn and Papadopoulos) with lying when there was no underlying crime they were trying to hide? When there was no traitorous "collusion" with Russians of any kind undermining our national security? When they may have simply misremembered (innocently unintentionally making false statements)? 
According to Mueller Flynn and Papadopoulos both lied to the FBI about their contacts with Russians: a post-election phone conversation with Ambassador Kislyak in the case of Flynn; and NGO* Russians in the UK that Papadopoulos met with during the campaign (see and see). But in both cases the contacts were legal, though perhaps improper, and Comey chose not to charge either one with making false statements like the more aggressive Mueller would do.
*Non-governmental organization.
On March 2, 2017 Comey testified to a closed door session of the House Intel Committee  

that, while Flynn may have had some
honest failures of recollection during the interview, the agents who questioned him [Peter Strzok]  concluded that he did not lie
.
As I said above it's most likely that Comey was lenient with Flynn and Papadopoulos to avoid igniting a controversy related to his whitewashing and exoneration of Hillary - of letting her off the hook when she committed real crimes (mishandling classified info using an unauthorized private server), though "unintentionally" as Comey said. How could Comey in fairness prosecute Flynn and Papadopoulos for lying about legal Russian contacts after not recommending that Obama's DOJ prosecute Hillary for criminal "gross negligence" that endangered our national security? What Hillary did was a thousand times more serious than Flynn's and Papadopoulos's little lies - that hurt no one. If Comey had sort the prosecution of these two men all hell would have broken loose over his head. 
Or could it be that Comey's decision not to charge Flynn and Papadopoulos with lying was due to the nature of his investigation? A counter-intelligence probe of possible coordination between the Trump campaign and Russia to influence the 2016 election. Was he focused laser-like on that, looking for evidence of "collusion" to the exclusion of all else? Was that the reason for Comey's inaction?
It is also important to mention the following two crucial facts:
1. After Flynn and Papadopoulus were interviewed it seems Comey and the FBI completely lost interest in them. For between late January 2017 and early May 2017 when Comey was fired they were never interviewed again. The first interview for both was their last until Mueller picked up the probe. It would seem there was nothing more for Comey to investigate and learn from these men. 
He was satisfied false (misremembered?) statements and all that Flynn and Papadopoulos weren't traitors colluding with Russia working to steal the election for President Trump.
And 2., as Alex Mercouris noted in The Duran, before January 2017 Comey had zero interest in Papadopoulos or else he would have interviewed him much sooner (in July). This totally undermines the anti-Trump propaganda lie advanced by the New York Times that what triggered Comey's Russiagate probe in late July 2016 wasn't the dirty Clinton Russia Steele Dossier (the likely cause) but a barroom conversation between Papadopoulos and an Australian diplomat two months before; it was then that Papadopoulos mentioned the baseless rumor he heard from an unreliable source (a British professor with Russian contacts) that the Russians had a damning trove of political dirt on Hillary in the form of thousands of emails stolen from her computer - not to be confused with the relatively few merely embarrassing Hillary related emails from the Wikileaks DNC-Podesta hack. 
But there's more. Also (under intense and secret)
investigation by Comey was former Trump campaign manager Paul Manafort (and possibly his deputy Rick Gates) who Mueller was to indict. I mention this because just as Mueller indicted Flynn and Papadopoulos with the crime, ignored by Comey, of lying to the FBI that, so did he charge Manafort and Gates with the crime of working as unregistered agents for the pro-Russian Ukrainian government of ousted president Vicktor Yanukovych. Called a FARA* violation Mueller used it to build a ridiculous, unprecedented money laundering case where he criminalized legally earned consulting/lobbying fees treating it as dirty mob or drug money (see). Comey in fact (along with other federal agencies) had been investigating Manafort since 2014 (he was FISA wiretapped on and off since then) and didn't charge him (or Gates) with a single crime, FARA or otherwise.
*Foreign Agents Registration Act
Flynn and Papadopoulos lied to the FBI about their non-collusive communications and contacts with Russians; and it's no more credible that Comey was oblivious to this than he was of Manafort's and Gate's FARA violations (which were widely known). What is clear is that these lies and violations weren't critical to the Russiagate investigation, so unlike Mueller Comey ignored them; and in so doing spared himself the wrath and fury of President Trump, Senate and House Republicans and the political Right.
After ten months and millions spent investigating media created allegations of Trump-Russia collusion Comey couldn't find a scintilla of evidence that anyone in Trump World criminally colluded with any Russian on any level for any reason. Not Flynn, not Papadopoulos, not Manafort, Gates or Carter Page; and certainly not President Trump (who wasn't, so Comey said, being investigated though the FISA wiretapping of Manafort and Page may have brought him under secret surveillance).
From beginning to end Comey's Russiagate probe was a farce however it began; and as such it remains ten months later with his successor the corrupt, out of control, anything goes Robert Mueller who weaponizing the law with "pitbull" Andrew Weissmann turned it into a fishing expedition, or witch hunt.
How did Mueller get to where he is? With help from a plotting, manipulative high-ranking official in Trump's Justice Department who extremely unhappy with Comey's weak, unproductive, failing investigation wanted to turbocharge it with new life; that official Rod Rosenstein  will be the subject of a future Russiagate blog.
Related